Concept #3: Sports Betting
Let me start by asking you an easy question (for most). Who is this?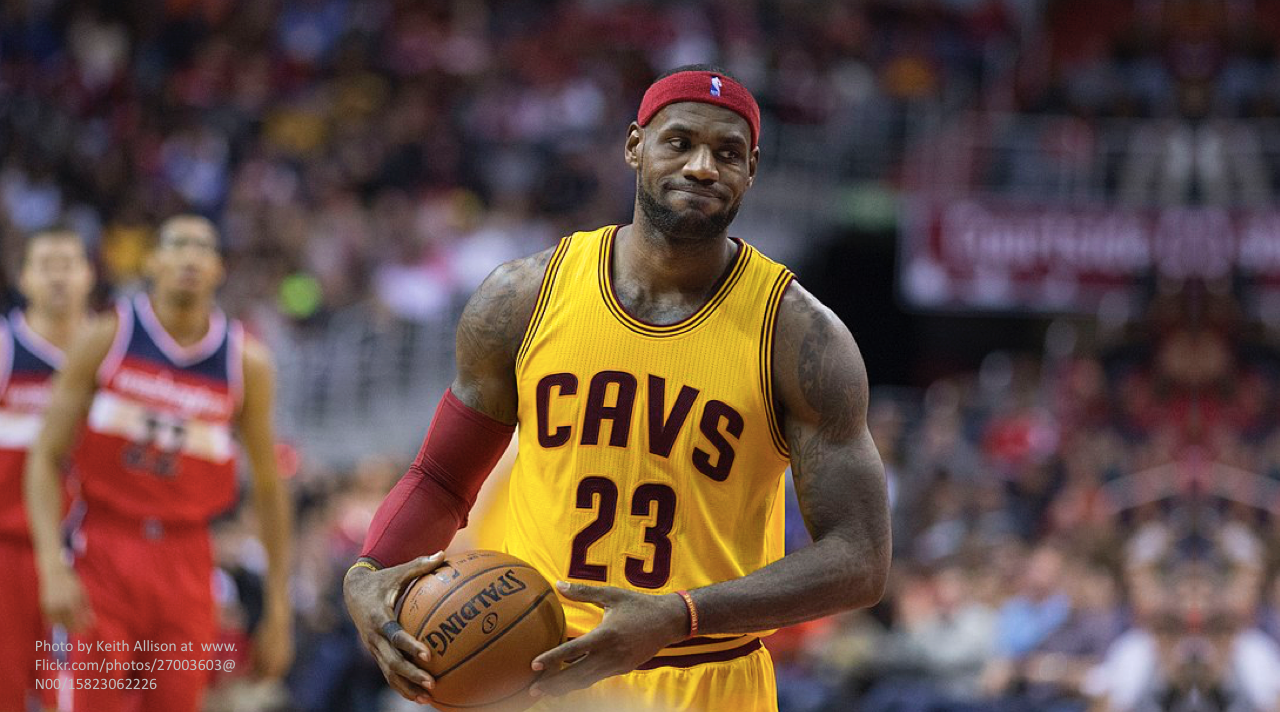 For those of you who don't know, this is arguably the world's best basketball player - Lebron James.
Now take a look at this board.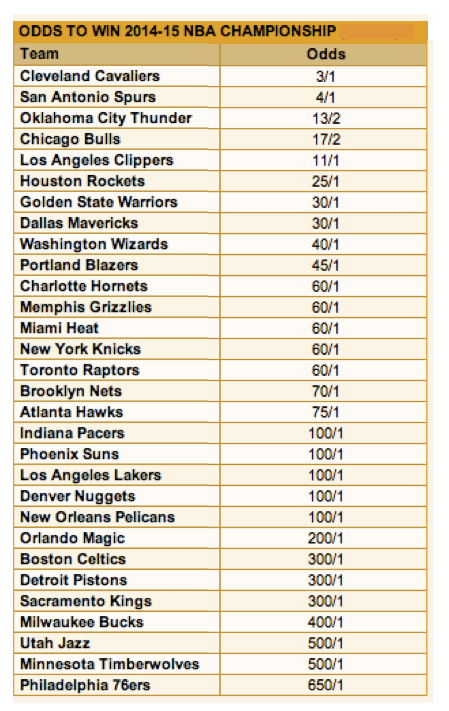 Its July, 2014, and these are the Las Vegas "odds" to win the 2014-2015 NBA Basketball Championship by team. We'll call the odds – PAYOUTS. Each team has it's own payout for every $1 you bet. For example, if you place a $1 bet on the Houston Rockets to win the championship and they actually win then Las Vegas will pay you $25.
It's important to understand that these payouts can change. They can move up or down. They'll change according to increases in supply or demand, meaning that if more people bet on a particular team the payout for that team will decline.
I'm from NY and I'm a Knicks fan. They're 60 to 1 to win the NBA Championship. That means - if I bet $1 and the KNICKS win the Championship then I'll win $60. If more people start placing bets on the Knicks winning, then the odds will decrease from 60 to let's say 20 to 1.
With this understanding, let me ask you -
Who's considered the worst team?

The Worst team is the Philadelphia 76ers. The reason?
For every $1 you bet on the Philadelphia 76ers, you can win $650 if they win the championship. That's much greater than every other team on the board, which means Las Vegas thinks they have the worst chances of winning.
Who's considered the best team with the best chances of winning the championship?
Yes! The Cleveland Cavaliers. Lebron James plays for the Cleveland Cavaliers.
But here's a more challenging question. Given the odds that you see, which team is considered the "best bet"?
The Cleveland Cavaliers …
The Philadelphia 76ers … or
The Reigning Champs - the San Antonio Spurs

WHICH IS THE BEST BET AND THINK ABOUT WHY?

What if I throw in one more?
4. They are all equal bets.
Does that change anything?
These payouts create an EQUILIBRIUM of risk and reward on each team for a $1 bet. (There are two teams that have a "2." That's simply because Vegas doesn't want to deal with $0.50 increments. 13-2 is 6.5 to 1 and 17-2 is 8.5 to 1.) Therefore, these bets are all considered "EQUAL" - Equal risk reward for every $1 bet.
Here's an example of how the payouts can change quickly:
Cleveland and Lebron James at 3 to 1 are the favorite to win the NBA championship. But, in the previous season he was actually playing for the MIAMI HEAT. 1 month prior to this snapshot, Lebron James decided to leave the MIAMI Heat and go play with the CLEVELAND Cavaliers.
Now let me ask you:
MIAMI HEAT is paying out 60 – 1, what do you think the payout was before Lebron James' announcement to leave?
They flipped PAYOUTS. Miami Heat went from 3 to 1 to 60 to 1, while Cleveland went from 60 to 1 to 3 to 1. Las Vegas immediately anticipated more bets coming in for Cleveland. These adjustments incorporated the higher probability of Cleveland winning the championship with the best player in the game.
There are many similarities between this lesson on sports betting and options trading. Specifically, "Payouts" play an important role with options.
GREAT
TRADING IDEAS
REQUIRE
DATA
WATCH THIS VIDEO!
CLICK IMAGE BELOW